Dating Products And Books
Understanding Men 101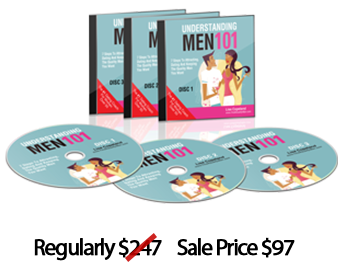 Decode Men's Thoughts and Actions
So You Can Attract, Date And Keep
The Quality Man You Want  
You'll finally understand how men think and cope with life and dating.
You'll find out what men really want, need and appreciate about women.  
In this class, you'll learn how to attract this type of man plus what you can do to keep him always wanting this for you.
You'll discover exactly what you need to do to find and keep the right man in your life and so much more!
The 4 Secrets
To Finding Mr. Right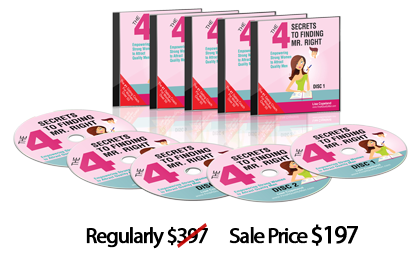 STOP Feeling Invisible And Discover How To Attract The Men You Want To Date With These 4 Secrets!
You'll discover exactly what Quality Men are looking for in the women they want to date.
You'll get a powerful, clear vision of the man you want in your life… This is vitally important for finding the kind of love you want.
You'll finally stop dating the wrong men once you discover the type of woman you are and who the best man actually is for you.
The Winning Dating Formula For Women Over 50
 7 Steps To Attracting Quality Men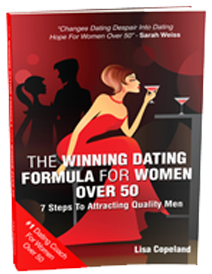 Lisa Copeland, the #1 Dating Coach for women over 50, has been right where you are. Her new book puts the dating tools and skills she teaches her clients into 7 easy steps. Whether you've been dating for years and could use a boost or you're just getting started in the dating game, the information in this book will be your guide for navigating this new world of over 50's dating.