Lisa Copeland, the #1 Dating Coach for women over 50, is your first choice in Dating Advice and Coaching for the mature woman who wants to have fun and date better.  If you are over 50, single and want to meet quality men and enjoy dating, you are in the right place.  Lisa offers every level of help you could ask for.  From a simple set of tips to VIP style one-on-one coaching to help you have fun dating over 50!
The Fun Path
To Mr. Right Program
A Dating Mentorship Program
A program geared for single women over 50 that shows you how to attract your best friend and playmate to share your life with while helping you feel confident, whole and complete!
Click here or the image below to learn more: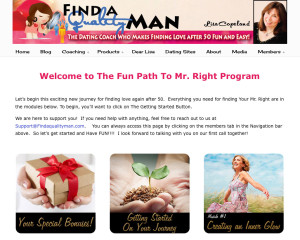 One-on-One
Personal Coaching
For the over 50 woman that really needs a boost into dating.  Learn from the #1 Dating Coach how to find love after 50!
Click here to apply for a Complimentary Session to talk with Lisa
The Winning Dating Formula For Women Over 50
7 Steps To Attracting Quality Men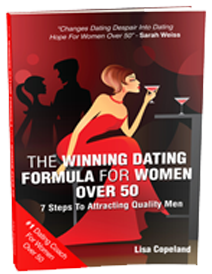 Lisa Copeland, the #1 Dating Coach for women over 50, has been right where you are. Her new book puts the dating tools and skills she teaches her clients into 7 easy steps. Whether you've been dating for years and could use a boost or you're just getting started in the dating game, the information in this book will be your guide for navigating this new world of over 50's dating.