Are You Ready To Find Love Again after 50 with an Amazing Quality Man?
Are there nights you've stayed up wondering if you'll ever find love again after 50?
Are there moments where it feels like you'll never find a Quality Man to date and share a loving life with?
Has finding love on an over 50's Online Dating been a nightmare for you?  In fact, you're beginning to feel like there are no good men out there to date much less fall in love with.
Even though you want a relationship…do you dread dealing with the whole dating scene…wishing it could be fun and easier to find a good man to share your life with?
Finding love again after 50 doesn't have to be so hard.   In fact it can be fun when you come from a place of love and an understanding of yourself as well as the Quality Men you want to date and be in relationship with.
One of the secrets to finding love again after 50 is knowing where to find and connect with "Quality Men." And in my FREE REPORT you're going to discover the  "The 5 Secrets"  for exactly where you can find and meet the types of  men you want in your life.
All you have to do is fill in the box to the right with your name and email address and I'll send your FREE REPORT to you immediately!
I know what it's like to date in your 50's.  I've been right where you are now ready to quit dating…ready to give up on finding love again.
Yes it was that frustrating!
But once I figured out what it takes to attract, date and keep a Quality Man, dating and finding love again became so much fun.
Men literally fell over themselves to date me because I'd  figured out the secrets to who they were and what made them tick!
I want to share these secrets and so much more about dating and finding love again after 50 so you can find and have a loving relationship with a man in your life! 
Are you ready?
If so,  I'd like to invite you to check out the coaching programs and the products you'll find in the Dating Success Store that will support you on this new love journey in your life.
Everything here is geared to helping you as a single women over 50 have fun attracting love into your life with a Quality Man!
Why don't you get started NOW by getting my Free Report filled with lots of great tips and dating advice that makes dating and finding love after 50 fun and easy!


Just leave your first name and email address in the box below and I will send it to you right away.
Have Fun Finding and Dating Quality Men After 50 Inside This FREE Report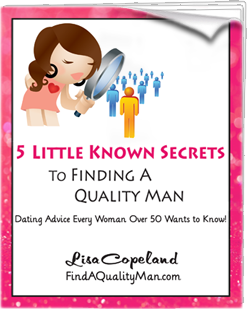 This FREE Report will be sent to you immediately.